Drag Queens, Pregnant Models, Fights & Pussy Power; 5 Highlights from NYFW 2018.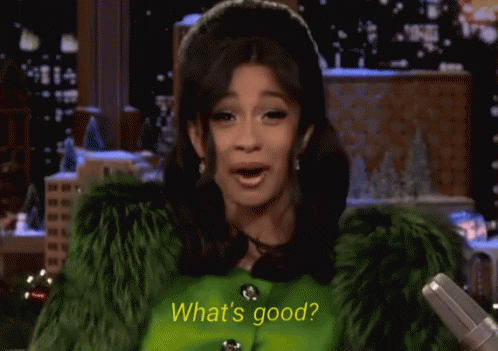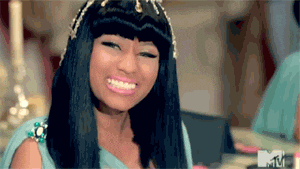 Art imitated life when Nicki Minaj and Cardi B got into a fight during Christina Aguilera's performance of "Fighter" at the Harper's Bazaar Icons party. Lucky for us the entire incident was caught from multiple angles from unsuspecting party goers cell phones. The fight kicked off as Minaj and Cardi were exiting the party and the fed up "Washpoppin" rapper decided to charge Minaj yelling "Come here, bitch!" Nicki, who was surrounded by her bodyguards, barely looked at Cardi, as she tried to jump through security to bless Nicki with her hands. Cardi suffered an elbow to the head from Nicki's security, got a hand full of her extensions pulled out and, in a last-ditch effort, took off her shoe and threw it at Minaj. Nicki could be heard screaming, "Is this bitch crazy?!?" as Cardi B was carried away by security with a massive knot on her head. Sigh. That poor shoe is the real victim. 
Brest Free and Proud!
Many brands showcased themes of feminism and diversity on the runway this season, but Chromat's Becca McCharen-Tran truly took showcasing diversity as a challenge and succeeded in unprecedented ways. Emme, who is known as the worlds first plus-sized model, strutted down the catwalk in a tiny curve baring bikini. Chromat continued their inspiring show by featuring a number of other models of varying ages, ethnicities and sizes who also sported neon bikinis that celebrated their uniquely beautiful features. Most notably, Viktoria Modesta, an amputee singer-songwriter, walked the show while wearing a prosthetic leg followed by   Ericka Hart who bared her double mastectomy scars while taking on the runway in sheer, neon bathing suit coverup. 
Power of the Pussy
"Pussy Power" was the theme for Tom Ford's NYFW show. On the trail of the Time's Up and #MeToo movements, Tom Ford kicked off the week putting the box, pun intended, front and center. Swarovski encrusted  "Pussy Power" bags and heels definitely grabbed the audience's attention as they went down the runway. Renown for his opulence, Tom Ford seemed to be returning to what made him exceptional in his Gucci days, as his collection was reminiscent of flashy 80's era mixed with the sensuality of the modern feminist movement. 
Sissy That Walk
Provocateur Rio Uribe championed absolute freedom from all norms, political stance, gender and sexuality with his "Gypsy Sport" collection. His on brand, far left, showing consisted of boob-baring wire bras, deconstructed blazers, and loosely stitched hoodies all in only black and white.  Uribe continued the defiant theme of casting models with various shapes and sizes, but one model, in particular, stole the show: Desmond Napoles. Everyone collectively gagged as the 10-year-old, self-professed "Drag Kid,' perfectly sashayed down the runway with the poise, confidence, and fierceness of Naomi Campbell scoring 10's across the board with his runway debut. 
Pregnant is Sexy Too
This year's fashion week had one of the most epic closings EVER! Ri-f*&king-hanna came out of fashion hiatus and lit the runway ablaze with her Savage x Fenty Show. The all-out theatrical presentation, turned runway show, was nothing short of the ultimate celebration of womanhood. 
A rumored attempt of sabotaging the Savage X Fenty show by Marc Jacobs did little to extinguish the heat the dancers brought to the stage before the models debuted the line. Every woman that was apart of this show was incredibly diverse in every ethnicity and body shape imaginable. There was even not one but two pregnant models! The full show was live-streamed on Youtube and is definitely a must watch. 
Please reload